Are you in search of the 10 Lines on Pepsi, then just read this article. We have provided all necessary and significant information in three category levels that means for Kid, for school students as well as for Higher school students. We have shared depth of knowledge with lucid language about Pepsi just check it, which will help to get more knowledge about that in simple way.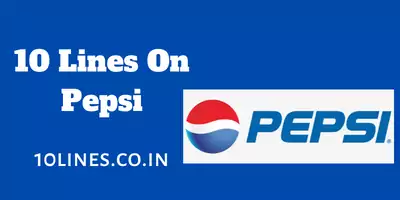 10 Lines On Pepsi For Children And Students
Pepsi is a well-known American beverage and food processing company. Pepsi is a world-famous brand of carbonated soft drink made by the PepsiCo. On August 28,1898, it was established 122 years ago. Caleb Bradham conceived and refined Brad's Drink in1893, and it was first introduced as Brad's Drink in 1894. PepsiCo is involved in every aspect of the food and beverage sector.
Set 1 – 10 Lines on Pepsi for the Kids
Pepsi is a multinational food, snack, and beverage firm founded in the United States.
PepsiCo produces Pepsi, a carbonated cola soft drink.
Caleb Bradham, who made it at his drugstore where the drink was marketed, first presented it as "Brad's Dunka" in New Bern, North Carolina in 1898.
Harrison, New York is home to Pepsico's headquarters.
Pepsico has operations in more than 200 countries and sells its goods in those countries.
PepsiCo is considered as world's second-largest food and beverage firm.
PepsiCo's main opponent in the beverage business has always been Coca-Cola.
The Pepsico corporation is divided into seven divisions around the world.
Nearly 200 nations and territories sell PepsiCo products.
They frequently sponsor sporting and musical events, like as the Super Bowl.
Set 2 – 10 Lines on Pepsi for the School Students
PepsiCo, Inc. is one of the most well-known consumer goods firms in the world, owning a number of well-known brands.
Pepsi cola was invented by pharmacist Caleb Bradham in New Bern, North Carolina, in the 1890s.
There are approximately 31 different brands of PepsiCo, all of which are well-known throughout the world.
Pepsico's total asset worth in 2019 is US$78.55 billion.
Pepsico Company's current CEO is Ramon Laguarta.
It is regarded as one of the best snack, beverage, and food producers in the world.
Frito-Lay, Tropicana, Gatorade, and Quaker Oats are some of the companies that have merged with Pepsi.
Food snacks and beverages, as well as foods and soft drinks, have all been added to the company's operations to grow the company.
Mountain Dew, Mirinda, 7UP, Uncle Chipps, Tropicana, Quaker and other Pepsi brands are well-known.
Pepsico has provided a huge employment opportunity around 143,000 employees.
Set 3 – 10 Lines on Pepsi for the Higher Class Students
PepsiCo, Inc. is a multinational food, snack, and beverage firm established in the United States.
Bradham, a pharmacist from North Carolina, founded Pepsi in 1898.
PepsiCo is also aiming to develop a circular economy, which means that less of its packaging ends up in landfills.
In terms of sports sponsorship, Pepsi is at the top of the list in North America.
The National Football League, the National Hockey League, and the National Basketball Association all have official sponsorship relationships with Pepsi.
Pepsico's other brands include Quaker Oats, Tropicana, Sabra, Stacy's Pita Chips, Naked Juice, and others.
Pepsico makes a significant contribution to employment, with 291,000 workers working in more than 200 countries.
PepsiCo's product portfolio includes 23 brands and a wide range of tasty foods and beverages.
According to Fortune 500 magazine, Pepsico is the fourth largest firm in the United States.
Pepsi was the first soft drink manufacturer to use two-liter bottles.
So, thank you for reading this, and I hope you understand everything I've said thus far. Finally, these are the 10 lines on Pepsi that we provided for three distinct types of students in order to help you obtain a basic knowledge of the Pepsi. You can take this information for your Academic writing, projects, schoolwork, presentations, and exam preparation.