Are you looking for 10 Lines on Airtel? We have provided a depth of information for students in three categories students according to their comprehension levels. We have provided the important information regarding Airtel in a simple and easy to comprehend way that will aid you in remembering it. Just have a look at it; you'll find a wealth of information regarding lines on Airtel.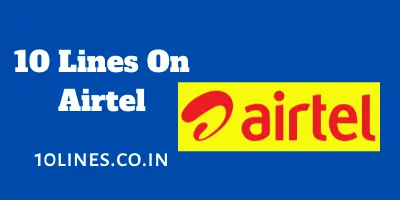 10 Lines On Airtel In English For Children And Students
Sunil Bharti Mittal created Airtel, a multinational business that provides telecommunications services. Airtel offers phone, broadband, and subscription based television services. It provides service all over the world. Airtel is the first telecommunications company in India to be awarded Cisco Gold Certification. Airtel Limited is a global telecommunications business with operations in 18 Asian and African countries. In the years 1997 and 1998, the company becomes first private telecommunication company in Madhya Pradesh to get a licence to provide basic telephone services. Airtel's headquarter is located in the Delhi.
Set 1 – 10 Lines on Airtel for the Kids
Airtel is an telecommunications services provider.
It is founded by Sunil Mittal in 1995.
Airtel provides many services such as mobile network, broadband, television subscription, telephone etc.
Airtel is headquartered in New Delhi, India.
In 2020, Airtel net income was 31,316 crore.
Airtel provide the services worldwide.
In india, airtel is largest second provider of mobile network.
Airtel's mobile offerings include 2G, 4G LTE, as well as 4G+ services.
In Jersey and Guernsey, Airtel-Vodafone operates the 3G mobile network.
In Sri Lanka, Airtel debuted its first international mobile network in 2009.
Set 2 – 10 Lines on Airtel for the School Students
Airtel is a multinational company which provides telecommunications services founded by Sunil Bharti Mittal.
In 2020 year, airtel's total reveue was 13 billlion dollar.
In 2014 airtel starts callme tune service for users which is name as "Hello tune".
In january 2017, airtel starts Airtel payments bank service for the mobile users for cashless payment by linked with the Kotak bank.
Airtel launches many services such as MAMO, global data, airtel money, airtel world, airtel broadband and much more etc.
A. R. Rahman, an Indian artist, composed Airtel's signature tune.
The song went on to become the most downloaded mobile music in the world, as well as around 150 million downloads.
Airtel announced a cooperation with Google Cloud Platform in January 2021.
Airtel also offers broadband as well as television subscription services. In WPP plc's and Millward Brown first ever Brandz ranking, Airtel awarded as India's 2nd most valuable brand.
With approximately 457.96 million customers, Airtel is the world's second provider of mobile network.
Set 3 – 10 Lines on Airtel for the Higher Class Students
Airtel is telecommunication industry which is founded on july 1995.
Sunil Bharti Mittal is the founder of Airtel.
Airtel provides telephone services, broadband as well as subscription based television services.
The 3G spectrum auction was finished on May 18, 2010, and Airtel paid the Indian government 123 billion for spectrum in 13 regions.
Airtel spent US $460 million for the spectrum in four circles in India's 4G spectrum auction on May 19, 2010.
As of June 2019, Airtel had around 95 million 4G subscribers.
Airtel is the first Indian telecommunications company to receive Cisco Gold Certification.
Airtel and Qualcomm announced a cooperation in February 2021 to construct a 5G network based on Open-RAN.
Airtel also serves as a long-distance communication carrier, both nationally and internationally.
In India, Airtel provides fixed line options that include high-speed broadband as well as PRI business number.
So Thank you for taking the time to read this, and I hope you understand what I've said so far. As a conclusion, these are the 10 lines on Airtel that we offered for three different categories of students, which will help you gain a basic understanding of Airtel. This can be used for essay writing, project work, homework, speeches, and exam preparation.