Are you looking for Lines on Pune ? We have provided a depth of information for students in three categories students according to their comprehension levels. We have provided the important information regarding Pune in a simple and easy to comprehend way that will aid you in remembering it. Just have a look at it; you'll find a wealth of information regarding lines on Pune.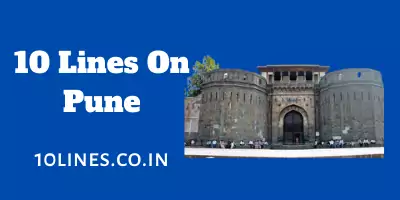 10 Lines On Pune In English For Children And Students
Pune is beautiful and populated city located in Maharashtra state. Pune is 484.6 kilometer square in area and 6.8 million in population. Let's read more about Pune.
Set 1 – 10 Lines on Pune for the Kids
Pune is located in Maharashtra state.
It is located at 102.1 kilometre from Ambarnath.
Misal pav is the popularity of the Pune which is food dish.
The area of the pune city is 484.6 kilometer square.
Marathi language is pune peoples commonly used for conversation.
There are many historical places are in Pune.
Murlidhar Kisan Mohol is current Mayor of the Pune.
Pune railway station nearby is the pune's main railway junction.
Pune has population density of 6,400 per kilometre square.
Pune is at 560 metre from sea level.
Set 2 – 10 Lines on Pune for the School Students
Pune is located in Maharashtra state, and it is at 207.4 kilometre from Kolhapur.
The population of the pune is 6.8 million as well as population density is 5,600 peoples per kilometer square.
Pune is at 9th rank in Indian most population cities.
The famous food dishes in pune are Sabudana Khichdi, Samosas with Chutney, Bhel Puri, Amti, Kalyan Bhel, Peanut
Chutney, Mastani, Vada Pav.
For the education pune is popular, there are many best universities thats offers the best the cources like Indian Institute of Science Education and Research Pune, Dnyaneshwar Vidyapeeth, Deccan College Post-Graduate and Research Institute, National Institute of Construction Management and Research, Gokhale Institute of Politics and Economics etc.
There are many big and small regions such are Amanora Park Town, Aamby Valley City, Ambegaon, Alandi. Which are comes in pune district.
In pune many cultural festivals are celebrates at big level such are Gudi Padwa, Gokul Ashtami, Dussehra, Banganga Festival, Diwali, Ellora Festival, eid and The Elephanta Festival etc.
Vishrambaug Wada, Mahadji Shinde Chhatri, Shaniwar Wada, Parvati Hill, Lal Mahal are the popular historical places in the pune where many peoples visits around whole year.
The popular tourist places in the pune are Western Ghats, Aga Khan Palace, Rajgad Fort, The Empress Garden and Peshwa Udyan Zoo etc..
There are many transport facilities are available at pune such as Bus, Metro, airport, Suburban Railway etc.
Set 3 – 10 Lines on Pune for the Higher Class Students
Pune city is located near Lonavla city. The area of the pune is 484.6 kilometer square.
There are many best schools in pune which are like Orchids The International School, Kiddonia Preschool Wakad, MIT School of Distance Education, Loyola High School and Junior College etc.
In pune, there are lot of popular hotels such as Holiday Inn Express Pune Pimpri, ibis Pune Viman Nagar, The Orchid Hotel, Royal Orchid Central Pune which provides best stay facility.
Peshwa Udyan Zoo is one of the famous place in pune, where peoples from different region visits. It is located near saras baug.
Lal mahal is one of the most well-known landmark in pune. Shahaji Raje Bhosale, built the Lal Mahal for their spouse Jijabai & son Shivaji in 1630.
Pune's peoples enjoys many cultural festivals with each other with joy like Pune Festival, The Eateries Food Fest, Pune Comic
Con, Osho Festival, Pune Biennale etc.
The closest airport for the pune is PBQ airport which is at distance of 8.7 kilometre.
There are many automobile, IT and manufacturing industries in the pune. Pune has MIDC"s in 251 different areas.
There are too many old temples in pune visited by thousand of peoples everyday like Omkareshwar Temple, Laxmi Narasimha Temple, Parvati Hill Temple, Kasba Ganpati etc.
Pune was ranked in world 299th unclean city in 2019 having average pm". A total of 5 readings of 35.7 μg/m3 were obtained.
So Thank you for taking the time to read this, and I hope you understand what I've said so far. As a conclusion, these are the 10 lines on Pune that we offered for three different categories of students, which will help you gain a basic understanding of Pune. This can be used for essay writing, project work, homework, speeches, and exam preparation.