Are you looking for 10 Lines on Nagpur ? We have provided a depth of information for students in three categories students according to their comprehension levels. We have provided the important information regarding Nagpur in a simple and easy to comprehend way that will aid you in remembering it. Just have a look at it; you'll find a wealth of information regarding lines on Nagpur.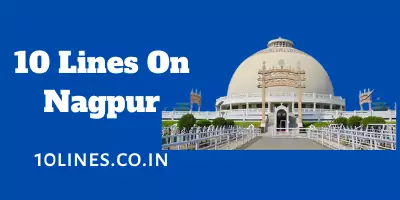 10 Lines On Nagpur In English For Children And Students
Nagpur is in the Maharashtra state with population of 3 million and Area of the 393.5 kilometre square. Peoples in Nagpur are commonly used Marathi and Hindi language during conversation. Lets read more about Nagpur.
Set 1 – 10 Lines on Nagpur for the Kids
Nagpur is located in state of Maharashtra.
It is at 320 metre from the sea level.
The area covered by the Nagpur is 393.5 kilometre square.
Nagpur comes in Vidarbha region.
It is one of the populated city in India rank at 13th.
The population density of the Nagpur is 11,000 per kilometre square.
Nagpur has popularity for Oranges Hence this city also called as Orange city.
Dayashankar Tiwari is Current Mayor of the Nagpur.
The railway station in the Nagpur is Nagpur Junction railway station started on 1867.
Ramtek Fort Temple is the historical place located in Nagpur.
Set 2 – 10 Lines on Nagpur for the School Students
Nagpur is located in the Maharashtra state, which is at 142 km distance from Amravati.
The population of the Nagpur is 2,940,487 and population density is 11,000 per kilometre square.
Peoples in Nagpur are commonly used Marathi and Hindi language during conversation.
There are many localities in the Nagpur such are Giripeth, Bajaj Nagar, Gokulpeth, Jaripatka, Kapil Nagar, Ashok Nagar,
Rajendra Nagar etc.
There are many festivals in Nagpur, people celebrates with joyful such as Ganesh Utsav, Hanuman Jayanti, Christmas, Id, Ganesh Chaturthi.
There are popular as well beautiful tourist places are in Nagpur like Khindsi Lake, Swaminarayan Temple, Nagpur Ramtek Temple, Deeksha Bhoomi, Shree Ganesh Mandir Tekdi etc.
Nagpur has founds lot of popular and dishes example are Matka Roti, Misal Pav, Santra Barfi, Biryanis and Kebabs, Tarri Poha, Saoji Delicacies, Patodi Rassa etc.
The Historical places in the Nagpur are Central Museum of Nagpur, Sitabuldi Fort Nagpur, Zero Mile Stone Nagpur etc.
There are main four educational universities in Nagpur which are Nagpur, Institute of Management Technology, Visvesvaraya National Institute of Technology, Maharashtra Animal and Fishery Sciences University, Rashtrasant Tukadoji Maharaj Nagpur University.
There are four types of transport facility in the Nagpur which are Bus, Metro, Airport, Railways etc.
Set 3 – 10 Lines on Nagpur for the Higher Class Students
Nagppur is located near the Amravati city and It has area of 393.5 kilometre square.
There are many best schools availables in Nagpur from this few are Kendriya Vidyalaya School, Central India Public School, Edify School, Modern School, New English School etc.
There are 70% peoples are from Hindu religion, 15% from Buddhism and 11% from Islam in Nagpur
There are many best hotels in Nagpur which provides luxurious stay facilities some of this are OYO Townhouse 075, Pride Hotel, Radisson Blu Hotel, Anand Mahal Hotel etc.
There are many historical places in the Nagpur where daily lot of peoples visits such as Ramtek Fort Temple, Akshardham Temple, Dhamma Chakra Stupa, Lata Mangeshkar Musical Garden etc.
In Nagpur peoples celebrates traditional festival with joy festivals like Makar Sankrant, Holi, Diwali, Dussehra, Gudhi Padwa etc.
Dr. Babasaheb Ambedkar International Airport is the near airport for the Nagpur peoples which is located in Sonegaon.
There are many manufacturing industries are in Nagpur at Hingana MIDC.
Nagpur has many beautiful and popular temples such are Adasa Ganpati Temple, Shree Ganesh Mandir Tekdi, Swaminarayan Temple, Ramtek Temple etc.
As per WHO report in 2018 the Nagpur was most polluted city in Maharashtra state.
So Thank you for taking the time to read this, and I hope you understand what I've said so far. As a conclusion, these are the 10 lines on Nagpur that we offered for three different categories of students, which will help you gain a basic understanding of Nagpur. This can be used for essay writing, project work, homework, speeches, and exam preparation.