Are you looking for 10 Lines on Kolkata ? We have provided a depth of information for students in three categories students according to their comprehension levels. We have provided the important information regarding Kolkata in a simple and easy to comprehend way that will aid you in remembering it. Just have a look at it; you'll find a wealth of information regarding lines on Kolkata. The Kolkata city is capital of Indian state West Bengal.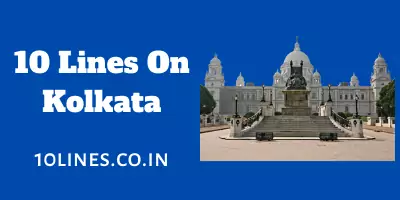 10 Lines On Kolkata In English For Children And Students
Kolkata is regarded as one of India's most populous cities. The city is also known as the "City of Joy." The British Empire created this
metropolis, which served as the capital of British India from 1773 until 1911. During Durga Puja, the city becomes flooded with people. This city is well-known for its wide range of delectable foods and desserts. In comparison to the other cities in India, this city has its own distinctiveness and significance. Kolkata is also known for having produced a large number of freedom fighters.
Set 1 – 10 Lines on Kolkata for the Kids
Kolkata is famous Indian city in West Bengal.
It is capital of Indian state West Bengal.
Kolkata has total geometrical area about 205 km2.
The Kolkata city is located at 9.14 metres above from sea level.
Kolkata has population density of 24.760/ sq. km.
The mostly used language in Kolkata is is Bengali.
In India the Kolkata is famous as city of joy.
The administrator of Kolkata city is Khalil Ahmed.
Howrah Railway Station is the biggest railway station in Kolkata situated on the bank of the Hooghly river.
Some of the historical places in Kolkata are Victoria Memorial, Dakshineshwar Kali Temple, Fort William, Writer's Building, marble Palace, Indian Museum etc.
Set 2 – 10 Lines on Kolkata for the School Students
Kolkata is the capital of West Bengal located at 1534.2 km from Delhi.
The population of kolkata is 1.49 crore and and population density is 24.760 /sq.km.
Kolkata city has total four municipal corporation with 37 municipalities.
The gender ratio of Kolkata is 908 per 1000 male.
The famous festival in Kolkata are Durga Puja, Kali Puja, Diwali, Saraswati Puja, Holi, Dover Lane Music Festival, Calcutta Book Fair etc.
The famous tourism places to visit in Kolkata are Victoria Memorial Hall, Mother House, Dakshineswar Kali Temple, Park Street, Eco Tourism Park, Howrah Bridge etc.
Kolkata botanical garden is also a place of attraction for tourist.
There are more than six universities in a Kolkata city for different streams.
The famous dishes in Kolkata are Macher jhol, Mishti Doi, kosha Mangsho, Alur torkari, Luchi, Cholar dal, Shukto, Chomchom etc.
National highway NH19 is passed through Kolkata city.
Set 3 – 10 Lines on Kolkata for the Higher Class Students
Kolkata is the capital of West Bengal which is located at 9.14 metre above sea level.
The East India Company found the Kolkata city in 1686.
Kolkata has a tropical climate with both wet and dry seasons.
Some of the heritage hotels in Kolkata are The Oberoi Grand, The Astor Hotel, The Rajbari Bawali, The Elgin Fairlawn etc.
Bengali ladies wear sarees, which are commonly composed of cotton or silk, and Bengali men wear Dhotis with a silk or cotton kurta.
The most important festival in Kolkata city is Durga puja which is held in september or October month.
Kolkata is undoubtedly India's most prominent cultural hub.
In Kolkata, Hindus account for 76.51 percent of the population, Muslims for 20.60 percent, Christians for 0.88 percent, Sikhs for 0.31 percent, Buddhists for 0.11 percent, and Jain for 0.47 percent.
The Kolkata has different industries like steel, heavy engineering, food processing mining, minerals, cement, pharmaceuticals etc
The kolkata has International airport facility in dum-dum.
So Thank you for taking the time to read this, and I hope you understand what I've said so far. As a conclusion, these are the 10 lines on Kolkata that we offered for three different categories of students, which will help you gain a basic understanding of Kolkata. This can be used for essay writing, project work, homework, speeches, and exam preparation.