Are you in search of the10 lines On Coimbatore In English, then just read this article. We have provided all necessary and significant information in three category levels that means for Kid, for school students as well as for Higher school students. We have shared depth of knowledge with lucid language about Coimbatore just check it, which will help to get more knowledge about that in simple way.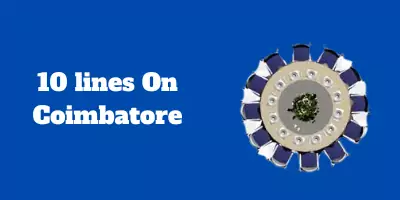 10 lines On Coimbatore In English For Children And Students
Coimbatore is the Indian city situated in Tamil Nadu state. The area covered by the Coibatore is 246.75 km square as well as the population of the Coimbatore is 1,601,438. Let's read more about coimbatore.
Set 1 – 10 lines On Coimbatore In English for the Kids
Coimbatore is located in the Tamil Nadu state.
The area of the city is 246.75 km2.
It is situated in the Kongu Nadu region.
Coimbatore is also known as Kovai.
The population density of the Coimbatore is 730/km2.
The coimbatore is at elevation of 411 metre.
Commonly peoples uses Tamil language in Coimbatore.
Thiru Raja Gopal Sunkara is the current Corporation Commissioner at Coimbatore.
It is founded in the year 1981. 10] Coimbatore is the 2nd large city in the state of Tamil Nadu.
Set 2 – 10 lines On Coimbatore In English for the School Students
Coimbatore is located in the state of Tamil nadu and It is situated at 142 kilometre distance from Kochi city.
The population of the coimbatore city is 1,601,438 while the population density is 730/km2.
There are many areas and localities included in the Coimbatore city such are Codissia, Bharathi Nagar, Avarampalayam, Chinnavedampatti, Damu Nagar, Cheran Ma Nagar etc.
Coimbatore is bordered with the Western Ghats as well as sits on the Noyyal River Banks.
The coimbatore peoples celebrates many cultural festivals with each other like Lord Jagannath Festival, Pongal, Aranganathar Temple Festival, Sri Koniamman temple Festival, Tahipoosam
and Thirukarthigai Festival etc.
Coimbatore became a capital of newly constituted Coimbatore  district during 1804, and it has been granted municipal authority on 1866, having Robert Stanes as this Chairman.
As per a survey published by the National Crime Records Bureau during 2015, Coimbatore is among India's safest cities for the females.
There are coimbatore has many historical places which are tourist attraction like Victoria Hall , Kallar farm, , Siruvani, GD Naidu museum, Gass Forest Museum etc.
Coimbatore has many top rated educational universities some are Tamil Nadu Agricultural University, Karunya University Coimbatore, Amrita Vishwa Vidyapeetham University etc.
The city seems to have a warm semi-arid temperature with a wet weather between September to the November caused by the monsoon from north-east according to the Köppen climatic category.
Set 3 – 10 lines On Coimbatore In English for the Higher Class Students
Coimbatore is located near Kochi city and It's area is about  246.75 kilometre square.
The Coimbatore has many best schools including Chinmaya International Residential School, SSVM World School, Yuvabharathi Public School etc.
The city is separated into two main physical regions first is dry eastern region, that contains the largest of the city's metropolitan region, and second is western area, which is bordered by the Anaimalai, Munnar as well as Nilgiris ranges.
The popular tourist places in coimbatore are like Ukkadam- Valankulam Lake, GeDee Car Museum, TNAU Botanical Gardens, VOC Park and Zoo etc.
As per year 2011 counting, the population of the Coimbatore as 1,601,438 while the sex ratio was the with every 1,000 males, there are 997 ladies.
There are 83 percentage peoples are from hindu religion, 8.6 percentage are from the Islam religion and the 7.5 percentage peoples are from Christian religion, as per 2011 report.
The biggest environmental challenges of Coimbatore are air pollution, a lack of efficient waste disposal systems, and the demoralization of water constituents.
The famous religious temples in the Coimbatore are Karamadai Ranganathaswamy, Dhyanalinga Yogic Temple, Marudhamalai Murugan Temple, Perur Patteeswarar Temple etc.
The coimbatore has transport facilities like Airport located in Peelamedu, Railway, Metro and Buses. There are many highways are passes through the Coimbatore city like NH544, NH81, NH83, NH948, NH181.
Township bus services begans in 1921 as well as cover much of the town and also the surrounding villages and towns.
So, thank you for reading this, and I hope you understand everything I've said thus far. Finally, these are the 10 lines On Coimbatore In English that we provided for three distinct types of students in order to help you obtain a basic knowledge of the Coimbatore city. You can take this information for your Academic writing, projects, schoolwork, presentations, and exam preparation.