Are you looking for 10 Lines on Yes bank? We have provided a depth of information for students in three categories students according to their comprehension levels. We have provided the important information regarding Yes bank in a simple and easy to comprehend way that will aid you in remembering it. Just have a look at it; you'll find a wealth of information regarding lines on Yes bank.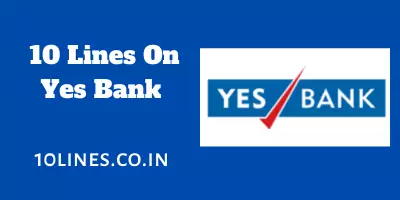 10 Lines On Yes bank In English For Children And Students
Yes bank is Indian bank which comes under private sector which is founded 17 years ago in year 2004. The headquarter of the yes bank is located in the Mumbai, India. Lets read more about the Yes bank.
Set 1 – 10 Lines on Yes bank for the Kids
Yes bank is financial services company.
It is founded by the Ashok Kapur and Rana Kapoor.
Yes bank is one of the private sector bank.
It also provides mortgage loan facility to customers.
The headquarter of the yes bank is located in Mumbai.
Yes bank is founded in 2004.
Prashant kumar is CEO of the yes bank.
In year 2021, yes bank generated revenue around 1.5 billion dollar.
Prashant kumar and Sunil mehta are key peoples of the yes bank.
There are about 18,238 employees are worked at yes bank in year 2018.
Set 2 – 10 Lines on Yes bank for the School Students
Yes bank is private sector bank started by Ashok Kapur and Rana Kapoor.
Yes bank offers many types of services such as Private banking, Wealth management, Consumer banking, Credit cards, Investment banking and Corporate banking.
The slogan of the yes bank is "Experience our Expertise".
There are one thousand branches as well as eighteen hundred ATM's of the Yes bank in the India.
On January 21, 2004, the Yes bank received a certificate of beginning of operation.
There have been fewer interruptions in some services that use Yes Bank in conjunction with some other payment providers.
Due to a number of significant businesses and online stores using Yes Bank as their UPI payment provider, the embargo created major delays to e-commerce in India.
Yes Bank was fined Rs. 25 crore by Securities & Exchange Board of India in April 2021 for fraudulently selling dangerous bonds without providing enough warnings as well as risk assessments.
The Union Cabinet authorized the Yes Bank rehabilitation project on March 13, 2020, and the prohibition lifted three days after the proposal was announced.
Due to market conditions, Yes Bank's intended one billion dollar share sale was cancelled in September 2016.
Set 3 – 10 Lines on Yes bank for the Higher Class Students
Yes bank is financial services provider founded in year 2007 which headquarter is located in India.
Through asset management services as well as retail banking , yes bank provides a wide range of financial and banking products to retail and corporate consumers.
On May 30, 2020, Yes bank acquired a 24 % share in dish TV India.
The Reserve Bank of India (RBI) took control of the Yes bank on March 5, 2020, in an attempt to prevent it from collapsing due to an overwhelming quantity of bad loans.
Yes bank provides many financial loans services to customer.
In conjunction with MasterCard International, they entered the retail banking market in 2005 with the launch of the Silver debit and International Gold cards.
Following its initial public offering in May 2005, Yes Bank was listed on the Indian stock exchanges at a price of 45 rupees.
Yes bank offers Unified Payments Interface facility to a variety of well-known companies, including RedBus, PhonePe Cleartrip and Airtel etc.
The Enforcement Directorate arrested Yes Bank founder Rana Kapoor on money laundering allegations on March 8, 2020.
Yes Bank's 52,600 crore in core bonds were reduced to a "D" rating by ICRA on March 6, 2020, meanwhile Moody's lowered them to "Caa3".
So Thank you for taking the time to read this, and I hope you understand what I've said so far. As a conclusion, these are the 10 lines on Yes bank that we offered for three different categories of students, which will help you gain a basic understanding of Yes bank. This can be used for essay writing, project work, homework, speeches, and exam preparation.