Are you searching for 10 Lines on Rahul Dravid In English. We have shared lot of information for three category level students for kid, school, Higher Class student as per their understanding level. We have provided all necessary information about Rahul Dravid in simple and easy language which will help you in easily understand and remember.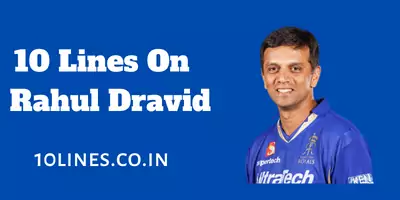 10 Lines On Rahul Dravid In English For Children And Students
just check it, you will get lot of information about lines on Rahul Dravid. Rahul dravid is former Indian cricketer and have made great contribution to Indian cricket. Dravid has started playing the cricket at the age of 12 years. At the age of 12 for for under 15 team of karnatak he played his first match. He is also known as
"Wall" for his great batting skills. He is famous as his right handed batsman and part time keeper. He also has International records on his name. In 2018 Rahul Dravid was added to ICC hall of fame. Let's Read more about it.
Set 1 – 10 Lines On Rahul Dravid In English for the Kids
Rahul Dravid is a former cricketer from India.
Rahul was born in Indore, Madhya Pradesh on January 11, 1973.
He grew up in Bangalore, where he was born into a Marathi family.
Sharad Ravi, his father, worked at a jam and preservatives manufacturing company.
Pushpa David, his mother, was an architectural professor.
Rahul began playing cricket when he was 12 years old.
Rahul Sharad Dravid made his international debut against the England squad.
Rahul Dravid is regarded as one of the greatest wicket keepers of his period.
Dravid appeared in 344 One-Day Internationals and 164 Tests.
Dravid received India's third and fourth highest civilian honors, the Padma Bhushan and Padma Shri respectively.
Set 2 – 10 Lines On Rahul Dravid In English for the School Student
He was a right-handed batter who also served as a part-time wicket keeper.
In June 1996, he made his test debut against England.
In April 1996, he made his One-Day International debut against Sri Lanka.
In May 1997, Dravid scored his first ODI century against Pakistan.
In 2000, Wisden Cricketers' Almanack declared Dravid one of the best five cricketers of the year.
He attended Bangalore's St. Joseph's Boys High School for his education.
In February 1991, Dravid made his Ranji Trophy debut.
Dravid was a part of the Royal Challengers Bangalore and Rajasthan Royals cricket teams.
He was ranked fourth in the world for most runs scored in international cricket at the time.
Under his leadership, India won the series in 2007.
Set 3 – 10 Lines On Rahul Dravid In English for the Higher Class Students
 Rahul Sharad Dravid was born in Indore, Madhya Pradesh, on January 11, 1973.
Rahul Dravid is a right-handed batsman who also serves as a wicketkeeper on occasion.
 In June 1996, he made his test cricket debut against England, and in April 1996, he made his test cricket debut against Sri Lanka.
 In one-day internationals he hit 12 centuries and 36 centuries in tests.
He's now in fourth place for most runs scored. Throughout his career, he had completed 13288 runs.
In 2011, he played his final match against England. He then announced his retirement.
Following his retirement, he worked as a batting consultant for the Indian senior squad during their 2014 tour of England.
Now Rahul Dravid is the National Cricket Academy's current head of cricket operations in Bengaluru.
He won the Arjun award for cricket in 1998. He was named Wisden Cricketer of the Year in 2000. Padma Shri and Padma Bhushan have also been awarded to him.
Rahul dravid's biography, authored by Vedam Jaishankar, was published in January 2004.
So friends, Thanks for reading, I hope you've understood all mentioned above. Therefore this are the 10 lines on Rahul Dravid we shared for three different category students which will help you to briefly know about Rahul Dravid. You can use this for your essay writing, project work, homework, speech and exam preparation wherever needed.