Are you kid, school or Higher Class student, looking for 10 Lines On Property Insurance In English, then just check it, you will get an idea about Property insurance. We have provided all significant information about the Property insurance in easy manner and in lucid language which will help you in easily understanding and remember.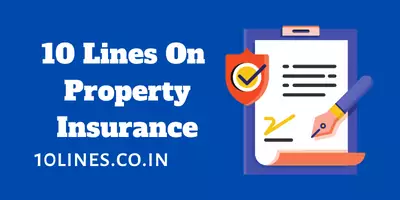 10 Lines On Property Insurance In English For Students
The property insurance provides coverage to your valuable assets for the damages due to the various risks. The purchase of property insurance makes person relax from the various property damages. Let's see more about the Property insurance.
10 Lines On Property Insurance In English (set 1)
Property insurance covers buildings, machinery, stocks, and other valuables against fire and other perils.
As a result, Property Insurance is a broad category of General Insurance, and the type of coverage you need is decided by the type of property you want to protect.
The two forms of property that are covered by property insurance are real and personal property.
Property insurance safeguards structures, machinery, and stock from fire and other disasters, such as burglary.
Fire insurance, earthquake insurance, flood insurance, and home insurance are all types of property insurance.
There are two ways to insure a property: open perils and specified perils.
The open perils is also known as all risks perils while the named perils is known as specified perils.
Open perils property insurance covers all causes of loss to covered property except those that are specifically excluded.
Only losses to your property caused by the events or dangers stated on the policy are covered by a named perils insurance policy.
Property insurance is available in a variety of products that cover various types of property damage.
10 Lines On Property Insurance In English (set 2)
Property insurance includes coverage for homeowners, tenants, floods, and earthquakes.
Property insurance also covers kitchen cabinets, shelving, flooring, worktops, and other fixtures and fittings.
The different types of property insurance are: umbrella policy, fire insurance, burglary insurance, all risk insurance etc.
Lightning, explosions, aircraft damage, storms, strikes, terrorism, floods, and other risks are covered in the property insurance.
Conflict, civil war, nuclear activity, and damage to cold storage stocks are examples of damages that are not covered by property insurance.
Personal liabilities are covered under property insurance as well.
The cost of a premium rises as the number of risks to be covered rises.
If you suffer a loss as a result of the predetermined reason, you must contact your insurance provider as soon as possible.
Personal property is usually covered by a homeowners or renters policy.
A good property insurance strategy considers all potential hazards while keeping the overall cost reasonable.
10 Lines On Property Insurance In English (set 3)
The property insurance is the type of insurance taken by the borrower to cover damages to the property by different risks.
The property insurance includes various policies like umbrella insurance, fire insurance, burglary insurance, all risk insurance, etc.
There are package or umbrella covers available that combine multiple covers into a single document.
The fire insurance coverage protects you against any unplanned property loss or damage/destruction caused by fire or other risks covered by the policy.
The property contained in the premises, including stocks/goods owned, is covered by the burglary policy.
Jewellery and/or portable equipment are typically covered under All Risks Insurance.
Some of the policies of property insurance also covers the personal liabilities because of the loss to the people in our property.
The property insurance is offered for both residential and commercial properties.
The cost of premium depends on value of your property, coverages and insurance provider.
The criteria for choosing of right plan for property insurance contains maximum number of risks with lower amount of premium.
Therefore these are the 10 lines on Property insurance that we provided for three different category students which will help them to briefly know about Property insurance. You can take it help for your homework, project work, exam preparation, speech, essay writing wherever needed.