Are you searching for 10 Lines On National Song In English, We have shared lot of information for three category level students, for kid, school, Higher Class student as per their understanding level. We have provided all necessary information about national song in simple and easy language which will help you in easily understand and remember. just check it, you will get lot of information about lines on national song. After listening national song the feeling of patriotism and nationalism is awakened in every people.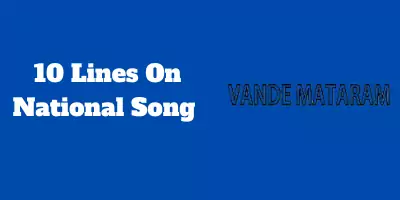 10 Lines On National Song In English For Children And Students
National Song of india is considered as "Vande Mataram" which played a great role at the time of indian independence movement. The song was written 135 years before by Bankim Chandra chatopadhyay in Bengali and Sanskrit language. Let's Read more about it.
Set 1 – 10 Lines On National Song In English for the Kids
'Vande Mataram' is India's national song.
The Constituent Assembly of India approved "Vande Mataram" as the national song on January 24, 1950.
Rabindranath Tagore performed the poem for the first time in the Indian National Congress in 1896.
Bankim Chandra Chatterjee has written a poem in both Bangla and Sanskrit.
During the Indian independence movement, "Vande Mataram" was one of the most popular patriotic songs.
There are six stanzas in the original "Vande Mataram" poem.
After that "vande mataram" is translated into may languages like Marathi, Gujrathi, Hindi, etc
Except for a few formal commemorations, the National song has the same significance and importance as the National Anthem.
The national song, Vande Mataram, is seen as a symbol of unity, and patriotism in India.
In 1905, Aurobindo Ghosh founded the popular newspaper 'Bande Mataram', which was inspired by the national song.
Set 2 – 10 Lines On National Song In Englishfor the School Students
The Sanskrit phrase "Vande Mataram" signifies "great regard for mother."
Everybody feels patriotic when they hear a national song "Vande Mataram".
Vande Mataram, a Sanskrit song made by Bankimchandra Chatterji, was a source of patriotism for the people in their fight for independence.
The poem "Vande Mataram," originally spelled "Bande Mataram," was composed in 1875.
Just after the poem was written, Jadunath Bhattacharya was requested to compose a music for it.
In 1896, it was originally performed during a congress in Calcutta.
In 1905, it became a well-known marching tune for political activism and the Indian freedom movement.
There are six stanzas in the original Vande Mataram. However, only the first two stanzas are used in National Songs.
The Madras High Court declared in July 2017 that the Vande  Mataram song be sung or performed once a week or once a month in institutes, schools, and offices.
The word "Vande Mataram" was used to instil a sense of patriotism and inspire a wish to oppose the British.
Set 3 – 10 Lines On National Song In English for the Higher Class Students
Our national song is Vande Mataram."I praise thee, Mother," it says.
This poem was composed in Bengali and Sanskrit by Bankimchandra Chatopadhyay.
Around 1876, while Bankim Chandra Chattopadhyay was working as a government official (a District Collector), the thought of Vande Mataram struck him.
The colonial authority prohibited the song and the novel that contained it, but employees and the general public disobeyed the restriction.
Many independence activists were imprisoned by the colonial administration for disobeying orders.
To respect the feelings of non-Hindus, Hindu leaders did not choose the entire song.
Vande mataram was written in the middle of India's first national flag when it was designed.
The adoption and singing of the Vande Mataram song was encouraged by Mahatama Gandhi. At a speech delivered in Guwahati in January 1946.
It was given equal rank with the national anthem Jana Gana Mana on January 24, 1950. 10] The song must also be played or sung at least once a month at government offices and industrial facilities, according to the Court.
So friends, Thanks for reading, I hope you've understood all mentioned above. Therefore this are the 10 Lines On National Song In English we shared for three different category students which will help you to briefly know about national song. You can use this for your essay writing, project work, homework, speech and exam preparation wherever needed.