Are you kid, school or Higher Class student, looking for 10 lines On My Pet Animal In English , then just check it, you will get an idea about My pet animal etc. We have provided all the necessary information about My pet animal in simple and easy language which will help you in easily understand and remember.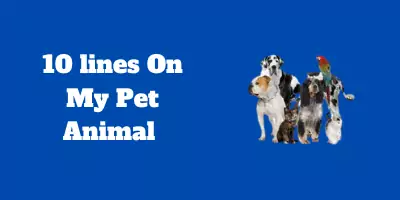 10 lines On My Pet Animal In English For Children And Students
When I got permission from my mother for a petting, at that time I was very happy, then decided to take a dog as a pet animal, then we took a one beautiful dog from a pet shop that located in our city. At The first few days he was silent due to sudden change in their environment as well as he has no friends with him at our home as like were in pet shop and then after few days he started to involve with us. Let's read more about the my pet animal.
10 lines On My Pet Animal In English (set 1)
My pet animal is the one of the my favourite animal which is Dog.
My pet dog name is the Buzo which is decided by me.
Buzo is from the Shiba Inu breed and he is Red Sesame in colors and 37 cm in the height.
I loved to play the ball catch and throw game with buzo, Buzo is also very playful.
In eating, Buzo likes the cream biscuits, pedigree (Dog food), Bananas, apples, watermelon, fish etc.
he Buzo is now knows about our guest, so whenever they comes Buzo welcomes them with Moving the tail.
When a stranger comes towards our home Buzo starts barking on them. Buzo also keeps our home safe from the thieves.
Whenever my friends come to my house on weekend, they enjoy spending time with Buzo.
Buzo is now one of the family member in our home.
Buzo is very smart in behavior and he jumps at a very high height.
10 lines On My Pet Animal In English (set 2)
My pet animal is a dog which name is Moti.
The moti is a very obedient pet, he follows my every order.
The Moti is from the German Shepherd breed dogs and in the color, he is in brown color with having the black color patches all over the body.
A few days ago my dad brought a colorful house made of wooden planks for the Moti.
The Moti is now one of the members of our house, so when my dad or my mom takes the Moti out for a walk, the house becomes quiet and empty.
When during the school holiday i become boared at the home, then i play with Moti at the playground located in our front of home.
Moti love to eat chicken, pork, egs, mangos, papaya, watermelon, and many vegetables.
When Moti was comes in house, he was about the 2.5 years but now he becomes 5 year old means he is living about 3.5 years with my family.
Moti is the male type dog and their height is about 60 cm and the weight is about 35 kg.
Moti protects our home from the thieves and also he keep watch on our home all over the night.
10 lines On My Pet Animal In English (set 3)
Rony is my pet's name, and he is a dog.
Rony is my very clever pet, My buddies and I are usually playing games with him.
Rony is from the Pomeranian breed dog and he is currently four years old
My father and I always go for a morning and evening exercise with Rony.
He stands 30 inches tall and 27 kg in weight. He is quite adorable and enjoys playing in the water.
Rony is a beautiful dog and he is kind to everyone.
In food, Rony like to eat the fruits, vegetables as well as chicken and the pork.
Rony assists me and my buddies in locating and bringing the ball from a long distance when we play cricket.
On the weekends my friends and my Uncle's daughter comes to our house, whole day we play in garden with Rony.
Even at night, Rony defends our houses from thiefs persons and stranger, ensuring that no one attempts to enter our home.
Therefore these are the 10 lines On My Pet Animal In English that we provided for three different category students which will help them to briefly know about My pet animal etc. You can take it to help for your homework, project work, exam preparation, speech, essay writing wherever needed.