Are you kid, school or Higher Class student, looking for 10 Lines On MRF In English, then just check it, you will get an idea about MRF. We have provided all significant information about the MRF in easy manner and in lucid language which will help you in easily understanding and remember.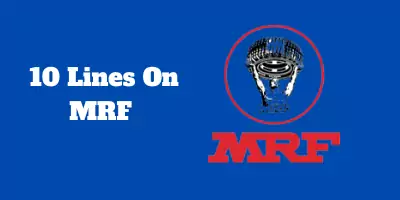 10 Lines On MRF In English For Children And Students
The MRF is the leading tyre manufacturer of india. The industry manufacture numerous variety's of tyres even from bike to the fighter jet. The MRF has started manufacturing of tyres in 1973. Now MRF is the india's no 1 tyre manufacturer as well as 6th largest tyre manufacturer in the world. MRF's most popular products are tyres, conveyor belting, pretreads, paints, and other MRF items. Let's see more about the MRF.
10 Lines On MRF In English (set 1)
The Madras Rubber Factory (MRF) is a tyre factory that makes a variety of tyres.
Rubber items, such as tyres, treads, tubes, and conveyor belts, as well as paints and toys, are manufactured by the corporation.
he MRF Pace Foundation in Chennai and the MRF Challenge in motorsport are both run by MRF.
It is also India's largest Original Equipment Manufacturer (OEM) tyre supplier, offering a wide choice of tyres for everything from motorcycles to fighter jets.
MRF (Madras Rubber Factory) is India's largest tyre producer.
The current CEO of MRF firm is Rahul Mammen Mappillai.
MRF is also regarded as the world's sixth largest ttre manufacturer.
The MRF tyres is headquartered in Chennai, Tamil Nadu, India.
On April 1, 1961, the firm went public, and a branch office was created in Beirut, Lebanon.
It was the first Indian manufacturer to export tyres to the United States in 1967.
10 Lines On MRF In English (set 2)
MRF (Madras Rubber Factory) is an India's largest private sector tyre manufacturing firm and India's largest tyre maker.
In 1946, K. M. Mammen Mappillai established the Madras Rubber Factory as a toy balloon production facility.
In 1973 MRF started to produce Nylon tyres for the first time.
Funskool India was created in 1989 in collaboration with Hasbro International, the world's largest toy manufacturer.
Tyres, Conveyor Belting, Pretreads, Paints, and other MRF items are among the company's most popular.
MRF also organises a national motocross competition.
The MRF industry has received several accolades, including AIRIA's Highest Export Award and CAPEXIL's Top Export Award.
MRF is ranked 93rd among the top 500 worldwide industries by FORTUNE-500 magazine in 2021.
JK Tyre, Apollo Tyres, CEAT, and Birla Tyres are among MRF Tyres' competitors.
The total asset value of MRF tyre ₹9,978.98 crore.
10 Lines On MRF In English (set 3)
Madras Rubber Factory is a multinational tyre manufacturing company based in India.
K. M. Mammen Mappillai, a youthful entrepreneur, started a modest toy balloon manufacturing company.
The primary factory for tyre and tube production was commissioned on December 4, 1962.
MRF was the first Indian manufacturer to export tyres to the United States in 1967.
The MRF has created MRF Pace Foundation that has Dennis Lillee, an international speed bowler, as the Director of the.
The Aruna Leathers & Exports Ltd. was merged with the company in 1990.
The MRF can produce 57.4 million tyres and 40.2 million tubes per year.
Tyres With Muscles is the MRF tyres logo.
MRF is the world's sixth largest tyre manufacturer, as well as India's largest tyre manufacturer.
MRF strives for zero defects, zero breakdowns, zero emissions, and zero accidents.
Therefore these are the 10 Lines On MRF In English that we provided for three different category students which will help them to briefly know about MRF. You can take it help for your homework, project work, exam preparation, speech, essay writing wherever needed.