Are you in search of the10 Lines On Motor Insurance In English, then just read this article. We have provided all necessary and significant information in three category levels that means for Kid, for school students as well as for Higher school students. We have shared depth of knowledge with lucid language about Motor insurance just check it, which will help to get more knowledge about that in simple way.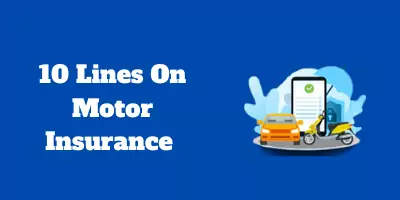 10 Lines On Motor Insurance In English For Children And Students
Motor insurance is a agreement of the  policyholder and the insurance provider that secures peoples financially in the case of a motor vehicle damage or theft. Let's read more about the Motor insurance.
Set 1 – 10 Lines On Motor Insurance In English for the Kids
Motor insurance is to get financial security in the incident of physical harm to Vehicle.
Motor insurance is for the bikes, wagons, cars and trucks.
It is very helpful if vehicle is get totally damaged by the Natural disasters, traffic collisions etc.
Motor insurance is also known as the Vehicle insurance.
Many peoples save the money and invest on the Vehicle, for them it is useful to buy motor insurance.
Before insurer pays the money they assured the vehicle is damage.
It gives financial security even if theft of the vehicle.
There are several kinds of insurance with various limits based on the demands of the driver.
Car owners cannot lawfully register or retain registration on their vehicles unless they have proof of damages and losses liability insurance.
The Road Traffic Act of 1930 was the first to establish a mandatory vehicle insurance plan in the United Kingdom.
Set 2 – 10 Lines On Motor Insurance In English for the School Students
Motor insurance is financial security for Motors or vehicles to to stay away from financial losses. If vehicle gets damaged due to accident, then financial services gives the money as per damage percentage.
There are many websites available on the internet such are policy bazaar, acko, Bajaj Allianz using that we can buy motor insurance.
There are many insurances are available as per peoples requirement.
For many people, buying a vehicle is a substantial investment. So it is very important to them to buy insurance for that vehicle.
The needed amount of insurance will be higher than the state's minimal liability protection requirements.
Collision insurance covers the cost of repairing the motor if the motorist is at blame in an accident.
It is very important to without facing financial loss at the time of accident rather than should buy motor insurance.
It is critical to have adequate insurance coverage to prevent one's property from being seized in the case of a catastrophic vehicle accident.
Although if you don't drive or own a car, vehicle insurance is required to secure your future and current personal property.
As a result, all vehicle owners and drivers were required to be insured for their risk for harm to third parties when operating their vehicle on a public road.
Set 3 – 10 Lines On Motor Insurance In English for the Higher Class Students
Motor insurance is a deal between the policyholder and the insurance provider that covers peoples financially in the case of a motor vehicle crash or stolen.
It can purchases for the many types government approved vehicles such are cars, wagons, two wheeler's etc.
Motor insurance can be buy offline mode or online mode.
To safeguard the investment, Motor owners should need to obtain accident and property insurance.
Who choose not to buy insurance are putting themselves in grave danger, as well as breaking the law in their home state.
Comprehensive coverage includes repairs to the vehicle in the case of a disaster causes due to naturally.
Sudden accident may causes the financial loss. If motor insurance is not purchased.
The majority of people cannot afford to buy a vehicle outright from a showroom. As a result, they will need to obtain finance in order to buy a vehicle.
In the case of severe harm to car, insurance protects you and other vehicles on the road from financial collapse.
All states demand evidence of financial responsibility, including a minimum amount of liability insurance in the instance someone were found at fault in a vehicle accident that damages other man's individual equipment.
So, thank you for reading this, and I hope you understand everything I've said thus far. Finally, these are the 10 Lines On Motor Insurance In English that we provided for three distinct types of students in order to help you obtain a basic knowledge of the Motor insurance. You can take this information for your Academic writing, projects, schoolwork, presentations, and exam preparation.