Are you searching for 10 Lines on Mahatma Gandhi, We have shared lot of information for three category level students, for kid, school, Higher Class student as per their understanding level. We have provided all necessary information about Mahatma Gandhi, their education, their professional life and their social work etc. in simple and easy language which will help you in easily understand and remember. just check it, you will get lot of information about life of Mahatma Gandhi.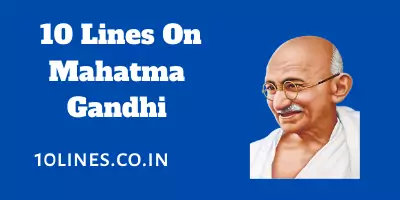 10 Lines On Mahatma Gandhi In English For Children And Students
Mohandas Karamchand Gandhi also known as Mahatma Gandhi was an Indian lawyer, Nationalist, freedom fighter. He was believe in method of non-violence. His birthday was celebrated as Worlds non-violence day. He started non-cooperation movement after Jallianwala bagh massacre. In 1930, Gandhi was awarded as "the Man of the Year" by the Time's Magazine. He was not winner of Nobel prize but he was nominated for Nobel peace prize for five times from 1930 to 1948. Lets see more about them.
Set 1 – 10 Lines on Mahatma Gandhi for the Kids
The full name of mahatma gandhi was Mohandas Karamchand Gandhi.
Mahatma gandhi was Indian freedom fighter, politician.
He was born on 2 october 1869, at Porbandar, kathiawar.
His father name karamchand uttamchand gandhi, and his mother name was Putlibai Gandhi.
He got the name mahatma in 1914 at South Africa.
Mahatma Gandhi was also called as Bapuji or Gandhiji by his followers.
He believe in non-violence method for Indian freedom movement.
In 1915, when he return from South Africa, he joined Indian national congress.
In 1917, by doing Champaranya satyagrah he started his first movement against British rule.
On 30 January 1948 mahatma gandhi was assassinated by Nathuram Godse.
Set 2 – 10 Lines on Mahatma Gandhi for the School Students
Mahatma Gandhi was born on 2 October 1869, at Porbandar, Gujarat.
His father Karamchand Gandhi was Diwan of Porbandar.
On 4 September he was sailed from Bombay to London for his higher studies.
Mahatma Gandhi completed his barrister from Inner temple, London.
Mahatma Gandhi was a great follower of truth. Mahatma Gandhi respects value of time.
In 1915, return to India and participated in Indian national movement.
Mahatma Gandhi started his movement by Champaran Satyagraha in 1915. It was first popular movement made by Mahatma Gandhi.
On 1st August 1920 he was started the non-cooperation movement after Jallianwala Bagh massacre.
On 12 march 1930 he started dandi march for Salt Satyagraha.
On 30 January 1948, he was assassinated by Nathuram godse.
Set 3 – 10 Lines on Mahatma Gandhi for the Higher Class Students
Mahatma Gandhi also known as bapu or gandhiji was Indian lawyer nationalist and freedom fighter.
He had completed his barrister from inner temple, London.
In 1882, Mahatma Gandhi was married with kasturba Gandhi.
Mahatma Gandhi went to South Africa in April 1893. He stay there for 21 years.
In South Africa he faced lot of problems because of his skin colour.
After coming from South Africa in 1915 he join national Congress party and started his movement for Indian freedom against British rule in India.
He was believed in non violence method. He was also great follower of truth. Hence his birthday is celebrated as non violence day.
The Mahatma Gandhi says that you can sway the word in peaceful way.
The books written by mahatma Gandhi are "the story of my experiments with truth", "Indian home rule", "the essential Gandhi".
Such a great freedom fighter was died on 30 January 1948.
So friends, Thanks for reading, I hope you've understood all mentioned above. Therefore this are the 10 lines on Mahatma Gandhi we shared for three different category students which will help you to briefly know about Mahatma Gandhi, their education, their professional life and their social work etc. You can use this for your essay writing, project work, homework, speech and exam preparation wherever needed.