Are you kid, school or Higher Class student, looking for 10 Lines On LIC In English, then just check it, you will get an idea about LIC. We have provided all significant information about the LIC in easy manner and in lucid language which will help you in easily understanding and remember.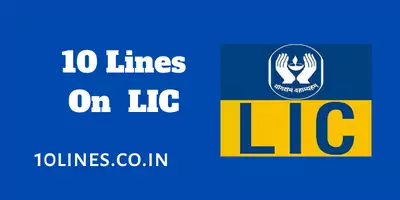 10 Lines On LIC In English For Children And Students
Life insurance corporation of India (LIC) is the biggest insurance provider company in india incorporated in year 1956. The firm provides various financial products to their customers. Let's see more about the LIC.
10 Lines On LIC In English (Set 1)
The Life Insurance Corporation of India (LIC) is an insurance and investment corporation controlled by the Indian government.
The Ministry of Finance of India owns the Life Insurance Corporation of India.
On September 1, 1956, the Life Insurance Corporation of India was established.
In India, the Industrial Policy Resolution of 1956 led to thenationalisation of the life insurance industry.
The indistry is involved in Insurance and Financial services from last 65 years
The range of products served by LIC india includes Life insurance, Health insurance,  Investment management, Mutual fund etc.
The LIC of india recorded the Revenue of ₹56,078,439 lakh in financial year 2019
In 2021 the total assets value of LIC india is about  ₹380,400,000 lakh
The headquarters the organization is situated in indian city mumbai.
10] The tagline used by LIC, India is "jindagi ki sath bhi jindagi ke bad bhi."
10 Lines On LIC In English (Set 2)
After the passing of life insurance corporation of India act the firm was established on 1 September 1956
As per the record in year 2020 there are 114,000 Number of employees are working with LIC india to achieve the goal of the organisation.
The LIC india is formed by the merging of around 245 insurance companies.
LIC now has 2048 fully computerised branch offices, eight zonal offices, and approximately 113 divisional offices.
There are 1,537,064 individual agents, 342 corporate agents, and 109 referral agents in the corporate servers.
The LIC has eight zonal offices, each of which is led by a zonal manager.
The LIC slogan is written in Sanskrit and roughly translates to "Your welfare is our responsibility."
Since 2006, LIC has been the recipient of the Readers' Digest Trusted Brand Award.
The LIC india has approximately 114498 male employees as well as 25,602 of female employees.
As of March 2020, there are 12,08,826 agents on the books, up from 11,79,229 in March 2019.
10 Lines On LIC In English (Set 3)
The name LIC refers to the Life Insurance Corporation of India, which is one of India's oldest organisations.
The Life Insurance Corporation of India (LIC) is the country's largest government-owned life insurance and investment corporation.
LIC offers a variety of life insurance products, including term life, whole life, endowment, money return, ulip, children's policies, and retirement plans.
Housing finance, pension plans, card subsidiaries, mutual funds, and other services are also provided by LIC India.
In the fiscal year 2018–19, the Life Insurance Corporation of India satisfied 26 million claims and there are 290 million policyholders in the country.
The Life Insurance Corporation of India (LIC) is India's largest and oldest insurer. It provides a diverse choice of insurance options.
Life insurance plans, pension plans, child insurance plans, unit-linked plans, special plans, and group schemes are among the products offered by the LIC of India.
As per the magazine fortune india 500 published in 2020 the LIC india is 75 th largest organisation in india
LIC has branch offices, wholly-owned subsidiaries, and joint ventures in 14 countries.
 LIC's primary function is to invest in global financial markets and various government securities after collecting monies from customers via various life insurance contracts.
Therefore these are the 10 Lines On LIC In English that we provided for three different category students which will help them to briefly know about LIC. You can take it help for your homework, project work, exam preparation, speech, essay writing wherever needed.