Are you looking for 10 Lines On Jaipur In English? We have provided a depth of information for students in three categories students according to their comprehension levels. We have provided the important information regarding Jaipur in a simple and easy to comprehend way that will aid you in remembering it. Just have a look at it; you'll find a wealth of information regarding lines on Jaipur.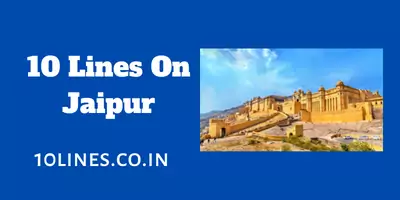 10 Lines On Jaipur In English For Children And Students
Jaipur is the largest city in the state of Rajasthan. The city is also known as the Pink City of india. It is well-known throughout the country for its rich history and eclectic culture. A number of places in Jaipur are attractive and have wonderful architecture. The Sawai Jai Singh built the City Palace, which is the city's most famous feature. Jaipur is home to some of the largest and most prestigious and well-known hotels. Because of the presence of several well-known hotels, this city has long been popular with travellers.
Set 1 – 10 Lines On Jaipur In English for the Kids
Jaipur is a popular Indian city into the state Rajasthan.
Jaipur is the capital of state Rajasthan.
The geometrical area of Jaipur city is 484.6 km2.
Jaipur is located at 431 m above sea level.
The population density of Jaipur is 6,500/km2
The language dhundhari is mostly used by peoples in Jaipur.
In the world of tourism Jaipur is famous as 'pink city of India'.
The mayor of Jaipur city is Munesh Gurjar elected in 10 November 2020.
Jaipur junction railway station located in hasanpura is the main railway station in Jaipur.
There are more than 15 historical places which includes Jaigarh Fort, Birla Mandir, Amber Fort, Jal Mahal, City Palace etc.
Set 2 – 10 Lines On Jaipur In English for the School Students
Jaipur is an Indian city located at distance of 281 km from Delhi.
The population of Jaipur is around 4 lakh and population density is about 6,500/km2.
Jaipur city is geographically divided into eight zones.
The gender ratio of Jaipur city is 900 per 1000 male.
The famous festivals in Jaipur are Teej Festival, Gangaur Fair, Elephant Festival, Kajli Teej Festival, Jaipur Dussehra Festival, Donkey Fair etc.
The top tourism places in Jaipur city City Palace, Jantar Mantar, Hawa Mahal, Amber Fort, Albert Hall Museum, Birla Mandir, Nahargarh Fort, Galta Ji etc.
Some of the different historical places in jaipur are Jaigarh Fort, Birla Mandir, Amber Fort, Jal Mahal, City Palace etc.
The popular dish of Jaipur is Dal Bathi Churma.
Jaipur city has total 25 different universities in different sectors.
National highway NH-21 is passed through Jaipur city.
Set 3 – 10 Lines On Jaipur In English for the Higher Class Students
The capital of Rajasthan Jaipur is located at 431 metre above from sea level.
On November 18,1727, Maharaja Sawai Jai Singh II created Jaipur, the capital of Rajasthan.
With lengthy, extremely hot summers and short, mild to warm winters, Jaipur has a monsoon-influenced hot climate.
Some of the heritage hotels in Jaipur are Raj Palace, Rambagh Palace, Trident, Jai Mahal Palace etc.
Ghagra, choli, and odhni are traditional Rajasthani women's outfits, while dhoti and angarkha, or pyjama-kurta, are traditional men's outfits.
Teej is one of Jaipur's most popular festivities.
Jaipur is a major arts and crafts centre. Antiques, jewellery, handicrafts, jewels, bangles, pottery, and other traditional items are sold in abundance.
The Jaipur consist of 77.91 percent of Hinduism, 18.63% of Muslim, 0.36 percent of of Christianity, 2.36 percent of Jain, 0.58 percent of sikh and 0.58, percent of Buddhism.
The main industries in Jaipur are tourism, ready-made garments, luxury textiles, gems, jewelry etc.
The Jaipur has International airport facility in Sanganer.
So Thank you for taking the time to read this, and I hope you understand what I've said so far. As a conclusion, these are the ten lines on Jaipur that we offered for three different categories of students, which will help you gain a basic understanding of Jaipur. This can be used for essay writing, project work, homework, speeches, and exam preparation.