Are you searching for10 Lines On Indian Culture In English, We have shared lot of information for three category level students, for kid, school, Higher Class student as per their understanding level. We have provided all necessary information about Indian culture in simple and easy language which will help you in easily understand and remember. just check it, you will get lot of information about lines on Indian culture.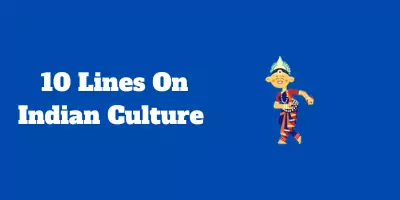 10 Lines On Indian Culture In English For Children And Students
India is the country which has great historical background in case of cultures and festivals. The India is only country where people of different faith live together without disturbance. Almost every day in India has something special for celebration. It has numerous festivals all around the year. The way of living and the tradition are different in each region of India. Let's read more about it.
Set 1 – 10 Lines On Indian Culture In English for the Kids
In different parts of the India, diverse cultures and traditions can be found.
There are distinct traditions and civilizations in the different areas of India.
Indian cultures are thought to have existed from ancient.
Islam, Buddhism, Hinduism, Sikhism, Christianity, and a variety of other religions are all lived together in India.
In India the elderly pass on their beliefs and cultures to the next generation.
Due to India's multi-religious and multi-cultural society, these festivals are quite diversified.
There are many languages spoken in India, and the Indian constitution recognises 22 of them.
"Atithi devo bhava" which means we treat out guest as god, that great thought is part of Indian culture.
The traditional Indian cuisine, arts, clothes, music and architecture change greatly depending on the location.
India is well-known throughout the world for its culture and traditions.
Set 2 – 10 Lines On Indian Culture In English for the School Students
Good manners, customs, beliefs and other aspects of Indian culture are essential.
India's culture is the world's oldest, dating back over 5,000 years.
People who live here practise a variety of religions, rituals, meals, and clothing.
People in India are deeply committed to their culture and are well-versed in proper social etiquette.
People keep fasts, bathe in Gange's holy water, worship and pray to God, and celebrate our festivals according to our unique traditions.
India is a nation of tremendous legends, where great individuals have been born and have done a lot of good work in the world.
The joint family system is a traditional Indian family structure in which numerous generations live under one roof.
India's glory and traditions are reflected in the Charminar, Taj Mahal, Lotus Temple, Indian Gate, and many other structures.
India attracts millions of tourists each year from all over the world due to its diverse traditions and civilizations.
India's people are deeply loyal to their culture and are well- versed in social etiquette.
Set 3 – 10 Lines On Indian Culture In English for the Higher Class Students
The saree is the most common kind of apparel worn by Indian women. Kurta, dhoti, or payjama for males. Men also wore different headgear in different parts of the country.
It has the world's most lively culture, with festivals, food, art & crafts, music, and dance performances, among other things.
The traditional Indian rural culture represents the genuine soul of India, as villages account for more than 60% of the population.
In India, the concept of a "Arranged Marriage" system is used.
It is, nevertheless, one of the countries where parents will choose their children's life spouse.
Our culture instills in us the values of good behaviour, respect for elders.
In India, people of various religions celebrate several festivals.
Indian culture is a unique fusion of current western culture and ancient customs.
India is a multi-religious country where people of many faiths coexist peacefully while maintaining their culture and traditions.
Even having such a rich culture, people meet as an Indian to celebrate national festivals.
So friends, Thanks for reading, I hope you've understood all mentioned above. Therefore this are the 10 Lines On Indian Culture In English we shared for three different category students which will help you to briefly know about Indian culture. You can use this for your essay writing, project work, homework, speech and exam preparation wherever needed.