Are you looking for 10 Lines on HDFC Bank? We have provided a depth of information for students in three categories students according to their comprehension levels. We have provided the important information regarding HDFC Bank in a simple and easy to comprehend way that will aid you in remembering it. Just have a look at it; you'll find a wealth of information regarding lines on HDFC Bank.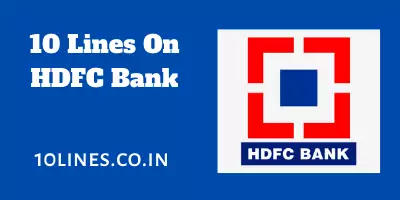 10 Lines On HDFC Bank In English For Children And Students
HDFC (Housing Development Finance Corporation) is an Indian Banking services provider company started 26 years ago in 1994. It's headquarter is located in Mumbai, India. HDFC bank provides financial services over India with about 5608 branches. Let's read more about HDFC Bank.
Set 1 – 10 Lines on HDFC Bank for the Kids
HDFC Bank is a Private sector bank.
It is founded by the Hasmukhbhai Parekh.
The full form the bank name is "Housing Development Finance Corporation".
HDFC provides banking services only in India.
The headquarter of the HDFC bank is located in Maharashtra.
The chief executive officer of HDFC bank is Sashidhar Jagdishan.
There are 1,20,093 numbers of employees are work at HDFC bank.
HDFC bank is started in 1994.
The bank generated revenue of 22 billion dollars in year 2021.
HDFC bank is awarded by the global brand magazine award for the "Best banking performer" in year 2016.
Set 2 – 10 Lines on HDFC Bank for the School Students
HDFC bank is Indian banking services provider company which headquarter is located in Mumbai.
HDFC bank is founded in the year 1994. Mr Sashidhar Jagdishan is CEO of the bank and Mr. Atanu Chakraborty is chairman of the bank.
There are about 5608 branches as well as 14,897 ATM's of the HDFC bank in India.
As of April 2021, HDFC Bank is India's largest private banking services provider in terms of assets as well as market capitalization.
HDFC provides lot of banking services to the customer such as Finance & insurance, private banking, consumer banking, mortgage loans etc.
HDB financial services is one of the subsidiaries of the HDFC bank.
Manmohan Singh, the Union Finance Minister, launched HDFC's first head office as well as full-service branch at Worli.
In year 2016, In India, HDFC bank is awarded by Global Brands Magazine Award as the Best Banking Performer.
In 2019, HDFC was awarded by the Global magazine Finance Asia for the Best Bank in India.
It is one of the largest employees company in India.
Set 3 – 10 Lines on HDFC Bank for the Higher Class Students
HDFC bank is Indian banking company started by Hasmukhbhai Parekh in August 1994.
On the National stock exchange of India, HDFC bank is the third largest firm by market capitalization.
HDFC bank also provides Mortgage loan and credit card facility to customers.
The National Stock Exchange of India and the Bombay Stock Exchange both have HDFC Bank's equity shares listed.
The RBI directed HDFC Bank to temporarily stop issuing new credit cards on December 2, 2020.
In February 2000, HDFC Bank and Times Bank combined, marking the first combination of two New Generation private bank.
In Odisha, an HDFC bank manager was detained on suspicion of fraud involving a value of 59.41 lakh.
In 2020, HDFC bank awarded by the Euromoney Awards as "India's Best bank".
In 1994, HDFC bank was one of the first private sector banks to be approved by the Reserve Bank of India.
Yes Bank received a 1,000 crore investment from HDFC in March 2020.
So Thank you for taking the time to read this, and I hope you understand what I've said so far. As a conclusion, these are the ten lines on HDFC Bank that we offered for three different categories of students, which will help you gain a basic understanding of HDFC Bank. This can be used for essay writing, project work, homework, speeches, and exam preparation.