Are you searching for 10 Lines On Father In English, We have shared lot of information for three category level students, for kid, school, Higher Class student as per their understanding level. We have provided all necessary information about Father in simple and easy language which will help you in easily understand and remember. just check it, you will get lot of information about lines of Father.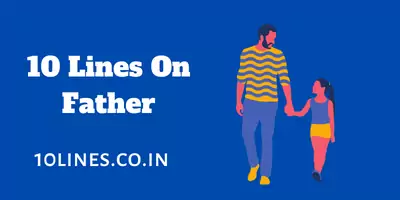 10 Lines On Father In English For Children And Students
Father loves us as like our mother. He has lot of responsibilities on him. Our total family lye on him. But even with such a burden on him, he always keep smile on his face. He is not able to give time because of his responsibilities but even when he tired he gives much time for us. He works hard without caring himself, for fulfil our needs and to complete our dreams. Let's find below more information about father.
Set 1 – 10 Lines on Father for the Kids
My father is my hero because he had faced a lot and started his life from zero to successful person.
He is the one that works tirelessly for the family in order for us to have a happy and productive existence.
He instils in me the values of honesty, helpfulness, and kindness.
He has a kind heart and is always willing to help others.
He loves me and tries to motivate me up whenever i suffer from difficulties.
He also help in our studies and projects.
He genuinely cares about everyone in our family.
He is one who always care for our future.
He never show off his problems, and always keep smile on his face.
We are thankful to god for giving us a great father.
Set 2 – 10 Lines on Father for the School Students
My father is the most adored member of my family, and he is the one who loves me the most.
He is a caring and responsible individual who looks to my complete family.
He is a wonderful human being, and I aspire to be like him.
He puts in a lot of effort to make sure our family is happy.
My father is a disciplined individual, which is why he completes all tasks on a regular basis.
My father cheers me up whenever I'm down.
My father is my first instructor, teaching me everything I know about life's manners and ethics.
When we do not adhere to the house's rules, he becomes angry.
My father holds his own parents, my mother, and every member of my family with high regard.
When people ask me who I aspire to be in the future, I tell them I want to be like my father.
Set 3 – 10 Lines on Father for the Higher Class Students
The position of a parent is not only vital, but it also comes with a lot of duties.
The father is the one who continues to do everything for others while doing little for himself during his lifetime.
He never thinks about himself while taking care of our needs and realizing our ambition.
My father is my best friend and idol because he is always there for me no matter what.
My grandfather, who is now extremely elderly, is respected by my father, who looks after them the most of the time.
I want to be like him when I grow up.
He is always encouraging us to achieve challenging goals.
He always guides us well in every issue, based on his life experiences and never leaves us alone in a difficult situation.
It is our responsibility to take care of him in his old days and should not ignore him.
We should always give respect to our father.
So friends, Thanks for reading, I hope you've understood all mentioned above. Therefore this are the 10 lines on Father we shared for three different category students which will help you to briefly know about Father. You can use this for your essay writing, project work, homework, speech and exam preparation wherever needed.