Are you searching for 10 Lines On Diwali In English, We have shared lot of ninformation for three category level students, for kid, school, Higher Class student as per their understanding level. We have provided all detailed information about Diwali, How peoples enjoys this in simple and easy language which will help you in easily understand and remember. just check it, you will get idea about lines on Diwali.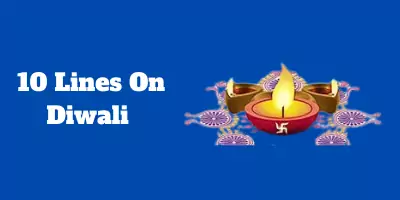 10 Lines On Diwali In English For Children And Students
Diwali is biggest festival celebrated in India. the festival is celebrated by Hindu religion peoples with enjoyment and enthusiasm. Diwali is considered as public holiday in India. The importance of this festival is on this day lord Krishna killed narakasura. the peoples in different regions of India celebrate the festival in their unique traditional ways. Let's know more about it.
Set 1 – 10 Lines On Diwali In English for the Kids
Diwali is a light celebration that commemorates the triumph of inner light over spiritual darkness.
Diwali is India's most well-known and largest festival.
As per hindu calender the festival starts on last day of ashwin month.
The diwali festival is of five days. These are dhantrayodashi, Narakchaturdashi, laxmipujan, Balipratipada and Bhaiduj.
Before diwali people clean their homes, shops, offices and decorate with lanterns,and colorful lighting's.
people decorate homes and roads with a large number of small oil lamps at night.
Ladies makes traditional sweets at home like Karanji, chakali, ladu chivda, etc.
On the day of laxmi poojan, people worship goddess mahalaxmi.
The last day of diwali is bhaiduj dedicated for relation of brother and sister.
On This Days, All People Enjoy The Firework At Night.
Set 2 – 10 Lines On Diwali In English for the School Students
Diwali, also known as Deepawali, commemorates Lord Krishna's thousands-year-old victory over demons in India.
The diwali festival is of five days. It starts with Dhantraodashi or dhanteras.
People decorate their homes with garlands, rangoli, lanterns.
At the evening of laxmipujan the people worship goddess laxmi at their homes and shops.
People use oil lamps and lanterns to illuminate their homes.
People buy gold and gold jewellery on the day of Dhantrayodashi.
The new year vikram samwat starts on this occasion. On this day, people start their new businesses, shops.
Children wait for this day since on this day they eat sweets, wear new clothes, and set off firecrackers.
At night houses, roads are illuminated with oil lamps and colourful lanterns.
Diwali festival is symbol of victory of good over evil, light over darkness.
Set 3 – 10 Lines On Diwali In English for the Higher Class Students
Diwali is victory of good over evil. The importance of the day is lord Krishna had killed narakasura on the day of narak chaturdashi.
Diwali also known as dipawali is India's biggest festival. In every region of India the way and tradition to celebrate Diwali is different.
The festival is of 5 days but the preparation of festival starts around one month before.
In the days of Diwali people wake up at early morning and take a scented bath which is known as "Abhyangsnan".
The evening and night of Diwali is luminous. People light the oil lamps, lanterns and make rangoli in front of doar.
The streets are also decorated with bigger rangoli and large size lanterns.
In this festival the sweets are made at home and distributed in neighbours and relatives.
The children's are very excited for this festival because of tasty sweets and fireworks.
The oil lamps, lanterns, rangoli and sweets are the attraction of this festival
But the pollution during this festival is also an important issue. The firework in this festival are responsible for sound pollution and air pollution. Sometimes accidents occurs due to the fireworks. Hence we should take care that our festival should not make bad impacts on the environment.
So friends, Thanks for reading, I hope you've understood all mentioned above. Therefore this are the 10 Lines On Diwali In English we shared for three different category students which will help you to briefly know about Lines on Diwali, how peoples are enjoys this festival etc. You can use this for your essay writing, project work, homework, speech and exam preparation wherever needed.