Are you looking for 10 Lines on Debit card ? We have provided a depth of information for students in three categories students according to their comprehension levels. We have provided the important information regarding Debit card in a simple and easy to comprehend way that will aid you in remembering it. Just have a look at it; you'll find a wealth of information regarding lines on Debit card.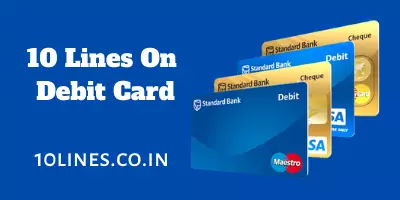 10 Lines On Debit Card In English For Children And Students
In today's digital world, large number of people uses debit card for cashless payment. By using debit card it is became easy to pay anyone and everywhere within few seconds. Almost all merchants accepts debit card payment. By using debit card, without carrying cash we can travel everywhere. If somewhere we need cash then we can also withdraw money from ATM machine using debit card from our account. You have to only swipe debit card for your daily spending which is very quick method. Let's read more about it.
Set 1 – 10 Lines on Debit card for the Kids
Debit card is a plastic card.
Bank issues debit card to customer.
It is very easy to pay with debit card
Debit card can be used to pay various types of bills.
Debit card can be used to withdraw money at ATM.
It is very quick payment method
We get many discounts using debit card for payment.
All over the world peoples loves pay using debit card.
In today's world lot of people have debit card.
It is very secure payment method.
Set 2 – 10 Lines on Debit card for the School Students
Debit card is a rectangular shaped plastic card which is we get from Bank.
When we open a bank account, we get a debit card from the bank if we want.
Debit card is a popular payment method that lot of people uses.
By using debit card without standing in a long line we can pay electricity bill, Mobile bills with sitting at home.
Almost all store, malls, seller's accept debit card.
As like payment using debit card we can also withdraw money using debit card from ATM machine anywhere in the world.
Debit card is linked to the our bank account. Hence bank passbook shows all usage details of debit card which are very important to control our use.
It is very secure and easy to pay with debit card.
We get many offers and discounts using debit card as a payment method
By using debit card many merchants not take extra charges on payment.
Set 3 – 10 Lines on Debit card for the Higher Class Students
Debit card is one of the bank facility for customers. Customers can pay to anyone, pay bills as well as withdraw money using debit card.
Debit cards have several advantages, including being safer as compared to carrying money.
As per report of Kansas City Federal Reserve, the first debit card may have introduced as early as 1966.
Debit card can be used at many places such as at shopping centers, malls as well as stores.
It is very convenient and secure payment method.
On every day there is limits for use of debit card for withdraw money. Some Bank takes extra charges from customers for use debit card over the limit.
As like advantages of debit card there are also disadvantages of debit card which you should know before using.
If someone steals your debit card and finds it debit card PIN, then they can withdraw all the money from your debit card. Hence It is important to keep a debit card with you.
Using debit we can transfer money from our account to merchants account within few seconds.
There are mostly purchases are made through debit card.
So Thank you for taking the time to read this, and I hope you understand what I've said so far. As a conclusion, these are the 10 lines on Debit card that we offered for three different categories of students, which will help you gain a basic understanding of Debit card. This can be used for essay writing, project work, homework, speeches, and exam preparation.