Are you looking for 10 Lines On Chennai In English ? We have provided a depth of information for students in three categories students according to their comprehension levels. We have provided the important information regarding Chennai in a simple and easy to comprehend way that will aid you in remembering it. Just have a look at it; you'll find a wealth of information regarding lines on Chennai.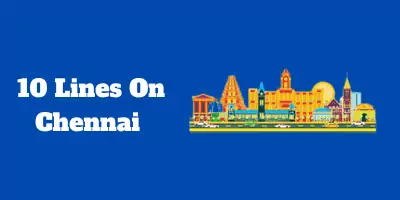 10 Lines On Chennai In English For Children And Students
Chennai is the capital of Tamil Nadu, which is located on the Coromandel coast of the Bay of Bengal in southern India. Madras was the name given to Chennai in the past. The "Gateway to the South" is another nickname for the city. The city of Chennai is surrounded by three rivers and numerous lakes. This city offers a number of lovely museums that are a must-see for anyone planning a trip to Chennai. Also Chennai is home to one of India's oldest medical centres. The city is home to more than a third of India's automobile sector. Let's read more about it.
Set 1 – 10 Lines On Chennai In English for the Kids
Chennai is one of the famous city located in Tamil Nadu.
Chennai is the capital of Indian states Tamil Nadu.
The Chennai covers 476 km2 area of tamilnadu State.
The city Chennai is located at 6.7 m above the sea level.
Chennai is one of the highly populated city with population density of 26,553 peoples per square kilometre.
Tamil is the commonly used language in Chennai city.
Chennai is also known as 'Detroit of Asia'.
The CEO of Google, Sundar pichai was born in Chennai.
'Chennai Central railway Station' is one of the main railway station which connects many cities to the Chennai city.
Some of the oldest historical places in Chennai are Government Museum, Fort St George, Valluvar Kottam etc.
Set 2 – 10 Lines On Chennai In English for the School Students
Chennai is the capital of tamilnadu located at 2,208.5 km far from Delhi.
The population of Chennai city in 2011 was 2,208.5 km with population density of 26,553 people per square kilometers.
The city is divided into north, Central and South region.
The gender ratio of Chennai city is around 989 per 1000 males.
Pongal, Thaipusam, Karthigai Deepam,Thiruvaiyaru Festival etc are the some of the popular festivals in Chennai.
Marina Beach, Thousand Lights Mosque, Elliot's Beach, Dakshinachitra some of the famous tourism places in Chennai.
Periyar Science Technology Centre is situated in Chennai city.
The Chennai includes more than 10 different educational universities.
Some of the delicious and mouth watering dishes in Chennai are Idli and Sambhar, Dosai Chutney , Onion Tomato Uttapam, Pongal with chutney, vada sambar etc.
The Chennai city has National highway NH-16 which connects Chennai to other famous cities.
Set 3 – 10 Lines On Chennai In English for the Higher Class Students
Chennai is a capital of Tamilnadu state located at 6.7 m above the sea level.
In 1996 the name of Madras city was officially changed as Chennai.
Tamil Nadu's climate is mainly tropical, with warm temperatures throughout the year except during the monsoon season
Some of the heritage hotels situated in Chennai city are Westin Chennai Velachery, Chennai Mahabalipuram Resort etc.
In Chennai, most women wear exquisitely designed saris, while men typically wear a lungi and shirt.
The most important festival in Chennai city is pongal which is celebrated for 3 days.
Chennai's culture includes the city's diverse population, resulting in a unique fusion.
The population of Chennai is includes 81.3 percent of Hindus, 9.4 percent of Muslims, 7.6 percent of Christians, 1.1 percent of Jains, 0.06 percent of Sikhs and 0.04 percent of Buddhists.
Industries in Chennai city includes automobile, electronic hardware, software services etc.
The Chennai has Chennai International Airport which connects it to the other states and to the world.
So Thank you for taking the time to read this, and I hope you understand what I've said so far. As a conclusion, these are the 10 Lines On Chennai In English that we offered for three different categories of students, which will help you gain a basic understanding of Chennai. This can be used for essay writing, project work, homework, speeches, and exam preparation.