Are you searching for 10 Lines On Brother In English, We have shared lot of information for three category level students, for kid, school, Higher Class student as per their understanding level. We have provided all necessary information about Brother in simple and easy language which will help you in easily understand and remember. just check it, you will get lot of information about lines on Brother.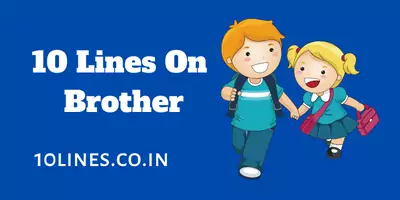 10 Lines On Brother In English For Children And Students
Siblings are great part of everyone's life. Even they fight with each other, they loves each others most. They never leave each other in their complete life. The bond between them is more special than the friendship. Let's read more about it.
Set 1 – 10 Lines On Brother In English for the Kids
Our brother, like our parents, is the one who cares for us the most.
Our brother could be a sibling or a cousin's brother.
My brother's name is xyz, and he is my elder brother.
He is a person who is both helpful and hardworking.
He is always willing to assist me with my schoolwork.
We go to the same school and play with each other after school.
One of his positive practices is to respect the elders and love the children.
When my parents are out, he looks after me.
His favourite sport is badminton. In addition, he is the badminton state champion.
He is a wonderful person, and I adore my brother.
Set 2 – 10 Lines On Brother In English for the School Students
Everyone has at least one brother, whether he is a sibling or a cousin.
Siblings are more like buddies that never left us and are always there for us when we are in need.
I also have a 17 year old brother who is older than me.
He is both my brother and a role model for me. His devotion and hard work have always inspired me.
He is not self-centered and shares everything with me. He is also quite relaxed.
But when it comes to my education, he is very strict, and he is always worried about my exam results.
He gets up at 5 a.m. every day to study, and then he exercises.
He is also skilled in sports and holds a number of qualifications in this area.
We siblings don't fight because we have such a strong bond of love and caring for one another.
He is a good person because of his thoughtfulness.
Set 3 – 10 Lines On Brother In English for the Higher Class Students
A brother is someone who has always supported, cared for, and assisted his sister throughout her life.
My brother has always supported me and is constantly teaching me new things.
A brother is the sole person who secures his sister's protection and defends her from the evil gaze of terrible individuals, aside from their parents.
He is a person who is caring about other people. He looks after our entire family at all times. In every way, he has never let my parents down.
My brother is a gentleman by nature and is well-liked by all.
He is well known in his school for his cricket talents, and our school has won numerous awards under his leadership.
I'm also at ease revealing my emotions with him. He has always helps me in overcoming obstacles in my education.
He always aces his examinations, and every year he rises to the top of his class.
Sisters believe that just because they have a brother, they have become strong.
 In every way, he serves as a role model for me. I always try to learn much things as I can from him.
So friends, Thanks for reading, I hope you've understood all mentioned above. Therefore this are the 10 Lines On Brother In English we shared for three different category students which will help you to briefly know about Brother. You can use this for your essay writing, project work, homework, speech and exam preparation wherever needed.