Are you in search of the 10 Lines On Bhubaneshwar In English, then just rea dthis article. We have provided all necessary and significant information in three category levels that means for Kid, for school students as well as for Higher school students. We have shared depth of knowledge with lucid language about Bhubaneshwar just check it, which will help to get more knowledge about that in simple way.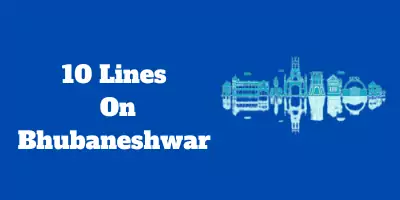 10 Lines On Bhubaneshwar In English For Children And Students
Bhubaneshwar is the city which is located in the state of Odisha. Bhubaneshwar city population is 837,321 while the area covered by this city is 186 kilometre square. Lets read more about Bhubaneshwar.
Set 1 – 10 Lines On Bhubaneshwar In English for the Kids
Bhubaneshwar located in the Odisha state.
It is also the capital of the Odisha.
The area of the Odisha city is 186 km2.
The elevation of the Bhubaneshwar city is 58 metre.
The commonly used language in Bhubanshwar is Odia.
It has population density of 2,131.4 per kilometre2 .
Bhubaneshwar is also knows as Temple city since there are 700 temples are in the Bhubaneshwar.
The Bhubaneshwar is in the Khordha district.
Bhubaneshwar is word comes from the TriBhubaneshwara word which means is "God of three world".
Bhubaneshwar was legally constituted as a modern city in 1948.
Set 2 – 10 Lines On Bhubaneshwar In English for the School Students
Bhubaneshwar is located in state of Odisha and it is at 23.29 kilometre distance from the Khurda town.
The Bhubaneshwar population is 837,321 while population density is 5,520.2/sq metre.
Bhubaneshwar has many localities and sub-areas such are Hanspal, Mancheswar, Baramunda, Bharatpur etc.
Bhubaneshwar is a city that specializes in administration, information technology, educational, and tourist industry.
There are many festivals celebrates by the Bhubaneshwar peoples including Kalinga Mahotsav, Konark Dance Festival, Durga Pooja, Chandan Yatra, Mahabisuva Sankranti etc.
Hirakud Dam, Ramachandi Beach, Netaji Subhash Chandra Bose Park, Tikarpada Wildlife Sanctuary are the some of the popular tourist places situated in the Bhubaneshwar.
Bhubaneshwar has most delicious popular dishes includes Khicede, Gupchup, Dalma with Rice, Bara, Dahibara Aloodum etc.
The tourist attraction historical places in the Bhubaneshwar are Udayagiri, Biju Patnaik Park, Ashoka Rock Edict, Stupas at Ratnagiri Buddhist Excavation, Shanti Stupa Bhubaneshwar etc.
The popular educational universities working in the Bhubaneshwar are Utkal University of Culture, Veer Surendra Sai University of Technology, Veer Surendra Sai Institute, Utkal University etc.
There are many transport facilities are available in the Bhubaneshwar such are Railway, airport, private, public buses, taxis. There are peoples also uses the cycle.
Set 3 – 10 Lines On Bhubaneshwar In English for the Higher Class Students
Bhubaneshwar is located nearby Barang town and Its area is 186 km2.
There are many public as well as private schools in the Bhubaneshwar such are DAV Public School, Sainik School, Demonstration Multipurpose School, Mother's Public School etc.
The Bhubaneshwar has many top rated popular hotels like Swosti Grand, Swosti Premium Hotel, Ginger Bhubaneshwar, Mayfair Lagoon etc.
Netaji Subhash Chandra Bose Park is the Bhubaneshwar's one of the famous park which is popular tourist place. It is devoted to Netaji Subhash Chandra Bose, the country's heroic independence struggle.
Biju Patnaik Park is one of the historical place in the Bhubaneshwar with playground, green space, garden facilities.
Bhubaneshwar is known as the 'Temple City of India' since it is said to have over a thousand temples, Rajarani Temple, Lingaraja Temple, Ananta Vasudeva, and Muktesvara Temple are all well- known temples in the Bhubaneshwar.
Bhubaneshwar is a hub for higher education with in Eastern Region, and it is regarded as Eastern India's education hub, having a number of government but also privately sponsored colleges and
universities.
Biju Patnaik Airport is main airport of the Odisha. It is also called as "Bhubaneshwar Airport". The first airplane is took off from this airport in the July 10, 2015.
In Bhubaneshwar, Male literacy rate is 95.69 % as well as female literacy rate is 90.26 %.
Odia is the primary language spoken in the Bhubaneshwar city. The majority of population, however, communicate with English and Hindi.
So, thank you for reading this, and I hope you understand everything I've said thus far. Finally, these are the 10 Lines On Bhubaneshwar In English that we provided for three distinct types of students in order to help you obtain a basic knowledge of the Bhubaneshwar city. You can take this information for your Academic writing, projects, schoolwork, presentations, and exam preparation.