Are you looking for 10 Lines on Amritsar? We have provided a depth of information for students in three categories students according to their comprehension levels. We have provided the important information regarding Amritsar in a simple and easy to comprehend way that will aid you in remembering it. Just have a look at it; you'll find a wealth of information regarding lines on Amritsar.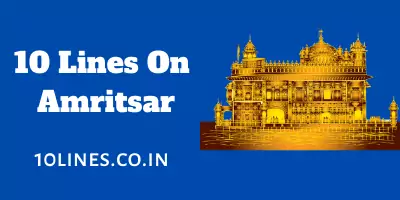 10 Lines On Amritsar In English For Children And Students
The city is Punjab's second-largest city. The Harmandir Sahib, also known as "The Golden Temple," is a well-known attraction in Amritsar. Ramdaspur was Amritsar's historical name. Ram Das, the Sikhs' fourth Guru, established Ramdaspur in 1577 which is further renamed as amritsar. Amritsar is a textile and chemical manufacturing hub. Also Amritsar is most important city, a major commercial, cultural, and transportation hub. Amritsar city is mostly famous for sikhism important Temple, like golden temple, Gurudwara Chheharta Sahib etc.
Set 1 – 10 Lines on Amritsar for the Kids
Amritsar is a famous Indian city in Punjab.
Ramdaspur is old name of Amritsar city.
The Amritsar city occupies 139 Km2 area of Punjab state.
The Amritsar city is located at 234 m above sea level.
The population density of Amritsar city is around 8,100/km2.
People in Amritsar city generally speaks in Punjabi language.
The Amritsar city is also popularly known as "The golden city".
The current mayor of Amritsar city is S. Karamjit Singh elected in 2018.
Amritsar Junction is the main railway station in Amritsar city which connects it to the all major cities of India.
The famous places to visit in Amritsar city are golden Temple, jallianwala Bagh, Akal Takht, Wagah Border etc.
Set 2 – 10 Lines on Amritsar for the School Students
Amritsar is a city in Punjab located at 451 Km away from Delhi.
The population of Amritsar city is around 14 lakh with a population density of 8,100/km2.
The golden Temple in Amritsar city is famous all over the world.
The gender ratio of Amritsar city is around 884 women's per thousand men.
The famous festivals celebrated in Amritsar city are Ram Tirth Fair, Baisakhi, Basant Panchami, Hola Mohalla, Lohri, Diwal etc.
Some of the tourism places in Amritsar city are Sri Harmandir Sahib, Jallianwala Bagh, Partition Museum, Akal Takht etc.
Gobindgarh Fort is one of the historical place in Amritsar located in mid of city.
There are more than 20 university which are situated into the Amritsar.
Some of the mouth watering and delicious dishes in Amritsar are Amritsari Kulcha, Sarson Da Saag & Makke Ki Roti, Tandoori Chicken & Chicken Tikka, Keema Kulcha etc.
National highway NH-1 and Amritsar-Jamnagar expressway passed through Amritsar city.
Set 3 – 10 Lines on Amritsar for the Higher Class Students
Amritsar is well known city of Punjab located at 234 m above sea level.
In 1574 Sikhism Guru ram das founded the city ramdaspur which was further named as Amritsar.
Amritsar has a hot, humid subtropical climate that is impacted by monsoons.
Some of the history and heritage hotels in Amritsar are Golden Tulip Amritsar, Ramada by Wyndham, Hotel Hong Kong Inn etc.
Punjabi males wear the 'Punjabi Kurta' and 'Tehmat,' while Punjabi ladies wear the Punjabi Salwar Suit.
One of the major and most famous festival of Amritsar city is the Ram Tirath Fair.
Golden Temple is the spiritual heart of Sikhism and the Sikhs' primary venue of worship.
In Amritsar, Sikhism is practised by 48 percent of the population, Hinduism by 49.4%, Christianity by 1.23 percent, and Islam by 0.51 percent.
The industries in Amritsar contains paper-cutting, textile machinery, engineering goods etc.
The Amritsar city also has facility of International airport in the name of Sri Guru Ram Das Jee International Airport.
So Thank you for taking the time to read this, and I hope you understand what I've said so far. As a conclusion, these are the 10 lines on Amritsar that we offered for three different categories of students, which will help you gain a basic understanding of Amritsar. This can be used for essay writing, project work, homework, speeches, and exam preparation.