Are you looking for 10 Lines On Ahmedabad In English ? We have provided a depth of information for students in three categories students according to their comprehension levels. We have provided the important information regarding Ahmedabad in a simple and easy to comprehend way that will aid you in remembering it. Just have a look at it; you'll find a wealth of information regarding lines on Ahmedabad.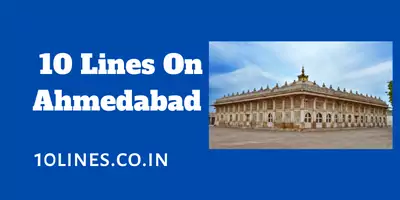 10 Lines On Ahmedabad In English For Children And Students
Ahmedabad is situated on the banks of the Sabarmati River in western India. Because of its numerous dairy and textile businesses, Ahmedabad is known as the "Machester of India." Ahmedabad is considered one of India's most developed cities. This city is also the country's second-largest cotton producer.
Ahmedabad is well-known for the wide range of food products available. During every festival, the city is alive with joy and excitement. With different festivals such as the International Kite Festival and Navratri, this city even inspires people to embrace every moment of life. The combination of numerous forms of architecture is one of the city's greatest attractions.
Set 1 – 10 Lines On Ahmedabad In English for the Kids
Ahmedabad is well known Indian city in Gujarat.
The most populated city in state of Gujarat is Ahmedabad.
It covers 196,030 km2 area of Gujarat state.
Ahmedabad is situated at 53 m above sea level.
The population density in Ahmedabad city is around 9,900 people per sq.Km.
Mostly spoken language in Ahmedabad is Gujarati.
Ahmedabad is also famous as Manchester of India and Boston of India.
Kirit parmar is the current mayor of Ahmedabad city.
The main railway station in Ahmedabad is Ahmedabad junction railway station located in kalupur.
Sabarmati ashram of mahatma Gandhi is located on the bank of river of sabarmati in Ahmedabad.
Set 2 – 10 Lines On Ahmedabad In English for the School Students
Ahmedabad is the city in Gujarat located 946.6 km away from Delhi.
The population of Ahmedabad is 80.59 lakh it has population density of 9,900 people per square kilometer.
Their total 17 different areas in Ahmedabad city.
The gender ratio of Ahmedabad city is 897 women to every 1000 men.
Some of the most famous festivals in Ahmedabad are Navratri, Rann Utsav, uttarayan, Shamlaji Melo etc.
The attractive places in Ahmedabad are Kankaria Lake, sabrmati Ashram, Sabarmati Riverfront, Adalaj Step-well etc.
Gujarat science city is the one of the attractive place in Ahmedabad.
There are total 30 educational universities present in Ahmedabad.
The most famous mouthwatering dishes in Ahmedabad are Khakra, Khaman, Dalvada, Ragda Patties, Keema Samosa, Kulfi, Fafda Jalebi etc.
Ahmedabad has NH-8 national highway and also has national expressway NE-1.
Set 3 – 10 Lines On Ahmedabad In English for the Higher Class Students
Ahmedabad is famous city in Gujarat located at 53 m above the sea level.
Sultan Ahmad Shah founded this city in 1411 as the capital of Gujarat sultanat.
The southern part of Gujarat has a humid climate, whereas the northern part has a dry environment.
Some of the heritage hotels in Ahmedabad are The House of MG, Divans Bungalow, French Haveli etc.
Gujarati men's traditional clothing consists of a kediyu or kurta as the upper garment and a dhoti or cotton chorno as the lower garment, and a Ghagra Choli or Chaniya Choli as the traditional attire for women.
Navratri is the most famous festival in Ahmedabad.
 It is the hub of Gujarati cultural activity, with a diverse range of ethnic and religious traditions.
According to the recent statistics, Hindus make up 83 percent of Ahmedabad's population, followed by Muslims (13.8 percent), Jain (2.5 percent), and Christians (0.72 percent).
Ahmedabad is famous for d textile industries.
The name of International airport in Ahmedabad is sardar vallabhbhai Patel International airport.
So Thank you for taking the time to read this, and I hope you understand what I've said so far. As a conclusion, these are the ten lines on Ahmedabad that we offered for three different categories of students, which will help you gain a basic understanding of Ahmedabad. This can be used for essay writing, project work, homework, speeches, and exam preparation.